May the Force Be Against...Cardinal Ratzinger
Here's my favorite off-handed comment so far today, coming just eight feet to my left from none other than my blog-hating
Washington Monthly
colleague Justin Peters, "Did you notice Cardinal Ratzinger looks exactly like the evil Emperor from Star Wars."
I didn't, but it's truly eerie. Take a look.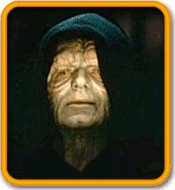 All Ratzinger, aka Pope Benedict XVI, needs is the hood and he's good.
All joking aside, I've already heard Ratzinger called a "nazi" today, while the
Washington Post
wrote that he worked to squash liberation theology
, the only recent movement in the Church that took Jesus's social ministry to the destitute and outcast seriously in my opinion.
To be honest, I don't know all that much about the man. I'll take a look over the next few days to see how true all these accusations are.